Senior Partner, Global Managing Partner
Frankfurt Office, Центральная Европа
+49 69 29924-6321
Most clients have high ambitions for their Information Technology. "High-performant, transparent and harmonized applications as well as processes to achieve efficiencies today and enable new digital business models tomorrow, leveraging new technology platforms" could be an example for an ambitious vision. Ensuring a focused and business-relevant IT transformation within reasonable time and cost is paramount to ensure effectiveness, sustainability and relevance of any efforts. Since many projects, e.g. in ERP projects, are technology-driven rather than business-driven, 70% of those projects fail spectacularly.
We at Roland Berger help our clients to stay focused on the business value of Information Technology, ensure involvement of all hierarchic and functional management levels and promote a reasonable level of standardization. Furthermore, our strategic focus and technological expertise guarantees for impactful, tangible benefits on HQ and regional sites as well as a structured and phased approach to roll out changes. Through our wide functional and industry knowledge Roland Berger will add important success ingredients to your program, such as future market requirements, best practices, target setting, improvement quantification, process designs and business cases. Furthermore, we help you develop optimized processes as a tangible result guiding you through the jungle of new technologies (e.g. AI, Robotics). Our goal is to make the complexity of an IT transformation manageable and create useful cases beyond the buzzwords. Additionally, we provide a supplier and technology neutral perspective and can help translate between business / IT and vice versa.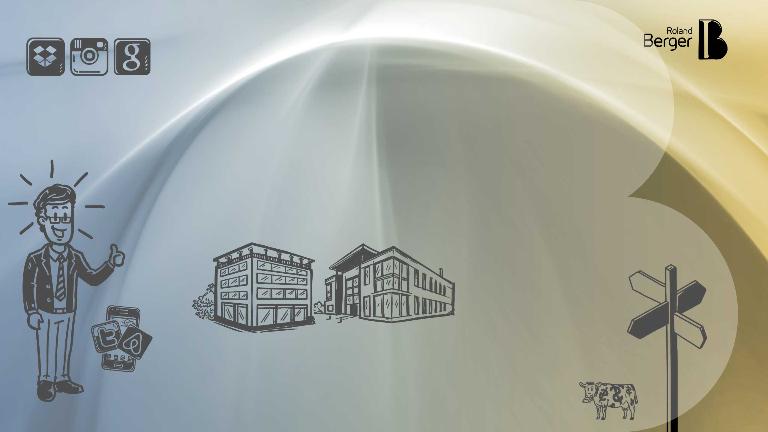 IT of two speeds in practice
PMI / carve-out IT support
A PMI / carve-out is a challenging time for seller and buyer. Financing banks put pressure on synergies and cost reduction and customers are pushing for a flawless transition. A factor often neglected is the holistic IT support, which all these goals need. Many business function leaders are looking for extensive IT support in getting their goals completed, but core IT functionalities need to be addressed first. Ensuring stable day 1 operations incl. EDI connections, order processes, master data changes, communication channels and application access rights is key to an overall project success.
We support our customers by focusing on the day 1 relevant functionalities to ensure overall project success. With our extensive knowledge from previous global projects we can help collect and prioritize requirements from business functions and decentralized IT units across countries and cultures. Steady alignments and continuous translation of information into tangible results is key to create a transparent picture of priorities, goals and implementation progress to all internal and external stakeholders. Additionally, Roland Berger manages all internal IT stakeholders and external IT service providers involved in the implementation. Furthermore, we support our client in the development of the new IT organization and IT Governance as well as harmonization of applications and infrastructure.
360 degree IT fitness check
CEOs and CIOs are often confronted with questions as to the actual state of their corporate IT. Key triggers can be new board member responsibilities, M&A processes, or post-merger integrations. Available information tends to be biased from negative user experiences, diluted by management layers, or too technical and detailed for decision makers.
Our 360 degree IT fitness check provides the necessary transparency. We dig into all the facts, from the inside of the IT function all the way to their "customers" in the organization. This provides management with a true picture of their entire IT strategy, architecture, costs, governance, and infrastructure. In line with Roland Berger's implementation DNA, we develop impactful and pragmatic improvement measures, tried and tested across several projects in many industries. Our result formats will always address the needs of both IT and business management—focusing on decision makers' needs without hiding the issues underneath technical buzz words.
Get in touch
Let us help you to shape your own future in an innovative way.